La Dolce Vita Destin Harbor Pontoon Boat Rentals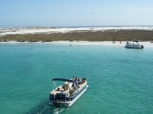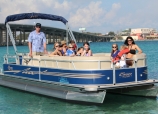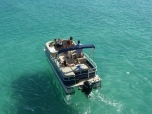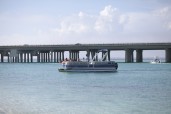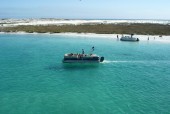 View
All
Create an unforgettable adventure with a Destin pontoon boat rental from La Dolce Vita. Head to local favorite Crab Island, or cruise through the Choctawatchee Bay for fishing, sightseeing, and dolphin watching! Whatever adventure it may be, kick back, relax, and enjoy the emerald green waters with a luxury pontoon boat rental from La Dolce Vita.
Activity Highlights
Safe, reliable, and updated equipment
Up to 12 passengers per boat
Within minutes of Crab Island and the Bay
24-foot pontoon boats
What's Included
Fuel
Life vests & safety equipment (Children sizes available)
Operating & safety orientation
Swim Ladder
Guide map of waterway
Exclusions:
Coolers & Ice
Parking
Gratuity
Dock Fee 5% (of total reservation)
What to bring
The person driving the boat must bring their drivers license and keep it on them at all times in order to operate the boat.
Customers are recommended to bring towels, coolers with food & drinks, sunscreen, water toys, and sunglasses.
Restrictions
Boats cannot be used as a shuttle.
Those who were born on or after Jan. 1, 1988 can operate the boat but are required to take a Florida Boaters Test. If you were born before Jan 1, 1988 you do not need this license. This test can be administered upon arrival for $5.
The person who books the pontoon boat or jet ski must be at LEAST 21 years old, have a valid drivers license & credit card.
Pontoon boats or jet skis cannot go into the Gulf of Mexico.
Glass bottles or items are strictly prohibited on the boat.
Grills are not allowed on the boats.
Pet friendly boats are available upon request. Pet fee is $25 per pet.
Boats must be returned no later than 6:00pm or scheduled return time.
Additional information
If you have any kids under 6, vendor has complimentary usage of life jackets for them.
All boats are furnished with U.S. Coast Guard approved Life jackets for everyone & any other required safety equipment.
If you don't know the waterways, a map of the waterway to help guide you through your trip is provided.
If the weather is unfavorable for boating and the vendor calls off your rental, the trip will be rescheduled for another time or day. Once the boat leaves the dock there will be no refunds or rain-checks for any reason, weather or otherwise.
Late fees may be assessed for late return of the equipment. Please arrive back on time.
Cancellation policy
Customers may cancel at least 48 hours prior to their arrival date and time to receive a full refund minus a $5 service fee. Customers that cancel after the 48 hour period will not be eligible for a refund. If weather or waves are unfavorable and the vendor calls off your rental, the rental may be rescheduled for a later time/date or a full refund will be issued. No-shows will not be refunded. Customer may make changes to the reservation without any fees as long as it's outside the 48 hour cancellation period.
Read what other TripShock! travelers think about the La Dolce Vita Destin Harbor Pontoon Boat Rentals. What they loved, what they liked and what they think could be improved, it's all here to help you make the most of your next trip. Only TripShock! customers may leave reviews. Please login to your reservation to post your review.
Jennifer USA about 1 year ago

Pontoon Boat Rental la vida dolce

We have gone to Destin for at least the last 10 years and rent a pontoon boat every year! This was the first time we rented from this place. All other places we rented from were great! The boats here were rusted and seats torn. The staff were rude and horrible. All young kids that claimed we would have to call the owner because he wasn't onsite. On the website it stated if there was inclement weather a portion of our fee would be refunded. Bad weather came and we had to go back to the dock. We paid for 8 hours and were only out 3 and they said we couldn't go back out once we came in. They had me sign paperwork that they said I waived the right for money back! Never ever rent from this establishment. Too many other nice pontoon boat rental places in Destin to even bother going... read more

Verified TripShock! Traveler Review

Robert USA about 2 years ago

I'm giving this boat company a 3 because they atleast ran and didn't leave us stranded like previous years! These boats were advertised as brand new 2017 Bentleys and this was not the case. The boats had mildew on the seats, the radios did not work, they were damaged and wrecked at the front! Not at all as advertised!!

Verified TripShock! Traveler Review

tamara USA about 2 years ago

The boat was wet and the seats were not wiped down. I understand that it's a boat but at least dry the sets for me, I am a boat owner. The seat cushions had mold all over them that was embedded in the vinyl seats. I should've gotten a discounted rate since the other boats that were docked next to mine waiting for customers did not! When you pay $300 for four hours you expect a clean boat, kinda like a rental car! The parking! As stated in a previous review it's $20 not $10 so just be aware! I think the parking attendant is pocketing the other $10 since it's CASH ONLY! And I had another service charge of $17 that tripshock didn't charge me for on the website & had to pay before we got our rental.

Verified TripShock! Traveler Review

Ryan Austin USA about 2 years ago

Everything required for the rental was emailed and/or texted to me in a timely manner allowing us to depart 5 minutes after our arrival. Excellent customer service: friendly and knowledgeable. We will be using tripshock next year for our rental needs.

Verified TripShock! Traveler Review

Kari USA about 2 years ago

Everything was great once we got to the dock. Site said there is a parking lot for $10. The guy who operates the lot actually charges $20 and there are no guarantees. You are better off getting there early and circling the coyote ugly parking lot to find a spot for free and closer. My only complaint is that we went out on the pontoon and had to come back an hour early because it down poured. The company does not refund for time lost for the rental.

Verified TripShock! Traveler Review

Raymond Smith USA about 2 years ago

Easy pickup and location is close to end of channel. Pontoon boat worked great and the staff went the extra mile to meet our needs. Had a blast

Verified TripShock! Traveler Review

SCOTT Georgetown, Kentucky, USA about 3 years ago

Great experience having a boat for the day. Nice pontoon, fantastic cruise through the harbor and bay. Absolutely worth an afternoon on the water.

Verified TripShock! Traveler Review

Robert Hussey Orange, Texas, USA about 3 years ago

Great customer service! Pontoon was alot of fun!

Verified TripShock! Traveler Review

Jacqualyn Nightengale Pawhuska, Oklahoma, USA about 3 years ago

I made my reservation on June 16th for our July 21st 8 hour pontoon rental. There were 10 people in our group, 4 being children. When we got to the rental booth to check-in I was told someone would be up to talk to me in a minute. We waited, when someone finally came to talk to me they said they were having to get a boat from another location. I had no problem with that and we waited. After some time they came back to me and told me they were unable to get a boat for me that morning but I could come back for a boat in the afternoon, he said he would discount $100. We had paid $60 to park our 3 vehicles and carted beach bags, ice chests, life jackets, and plenty more down to where the boat should have been, now they are asking me to take it all back and come back later. After telling... read more

Verified TripShock! Traveler Review

Management Response, about 3 years ago

Jaqueline, We are very sorry your family did not get to go out on their pontoon. Several of our boats were brought back in the evening before with maintenance issues from misuse by customers which is why we did not have a boat for your family at your scheduled time. We tried to bring an additional boat to the dock but had to send it out to rescue a family that had went farther in the bay than we allow and they had gotten lost. We recognize that we made a mistake by not communicating all of this too you properly. Our booth attendant should have informed you and tried to reschedule you to a time that worked better for you but she was overwhelmed. This is definitely not an excuse for our failure to provide you with excellant customer service. These type of situations are very rare for us and we assume full responsibility. We had Tripshock refund you in full as soon as you asked. You have every right to be disappointed because we did meet your customer service expectations. As far as the boats not looking the same as advertised, we are slightly confused. The boats pictured on Tripshock are the same ones we have here at the docks. Some models are older and some are new, but none of them are in less than satisfactory condition. If there is anything we can do for you in the future to try and earn your business back, please let us know. We are a local company that has strong service values so we take these situations very serious. Thank you, La Dolce Vita Team

John Brookville, Ohio, USA about 4 years ago

We dealt with Jason at the marina and he was very informative, prompt and helpful. We rented the pontoon boat for 4 hours and cruised out into the bay. The only reason this isn't a 5 star review is the boat had a few minor flaws that could be better, but definitely nothing that would stop us from returning again. One of the speakers were busted and the throttle seemed very loose and unresponsive compared to any other boat I've ever been on. Seemed like it could use some definite attention, but like I said those 2 things weren't anything that hindered us having fun or made the boat not worth the money for the rental. I'd definitely recommend this place for your boat rental and we will most likely do it again if we venture back down to Destin.

Verified TripShock! Traveler Review
Note: It is the responsibility of the activity/tour company to ensure the accuracy of the photos displayed. Destin Boardwalk is not responsible for any inaccuracies in the photos.