Xtreme H2o Destin Crab Island Jet Ski Dolphin Tour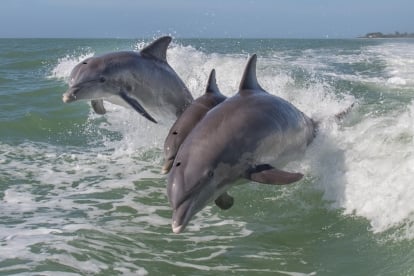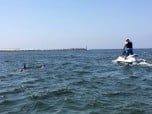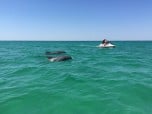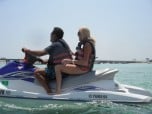 View
All
ONLINE EXCLUSIVE: Book online and SAVE $10 using code DOLWAV! ($220 min) Shortest No-wake zone & fuel included!
Come enjoy a unique Destin adventure with Xtreme H2O. Guests will start out at the Destin Marina where an experienced guide will then take guests to the local dolphin "hang out." After exploring, the guide will set guests free to explore the glimmering waters. An awesome highlight of this tour is that guests get to set the pace! Make sure to bring a waterproof camera so to get some good shots of the dolphins! Book this tour only if guests want an ultimate, up-close experience with wild bottlenose dolphins!
Activity Highlights
Enjoy a unique and upfront experience with wild dolphins
Guided tour on 3-seater Yamaha VX 1100 Waverunners
Adventure and explore the Choctawhatchee Bay
1-hour tour and 30 minutes of free time
What's Included
3 Seater Waverunner
Tour Guide
Life Vests
Instruction
Restrictions
Adults born BEFORE January 1, 1988, can operate a jet ski with a valid drivers license without a Florida's Boater License.
The person signing the contract must be 18, have a valid picture ID, & a VALID credit card for incidentals, minors will need their parent to sign for them to participate.
Those born on or after January 1, 1988, can operate a jet ski, but are required to take a Florida Boaters Test and must by 16 years old with a valid US drivers license. These tests are available upon arrival for $3. They take approximately 45 minutes to complete. Please arrive early if someone in the party is taking this test.
Children under 3 years of age cannot ride jet skis. Children are not allowed to sit in the front and must be capable of holding onto the adult who is driving the jet ski.
Jet ski tours go in the bay or the gulf, depending on conditions.
Total weight capacity is 400lb. Not valid for three grown adults.
Jet Ski's MUST be returned at the rental location no later than 6 pm regardless of the time of departure.
Additional information
Free parking on-site.
Not handicap accessible.
No service animals allowed.
Children under 3 years of age are not allowed to ride jet skis. Children cannot sit in the front of the jet ski and must be capable of holding onto the adult who is operating the jet ski.
Dolphin tours are available daily March through October. Departure times are typically in the early morning.
It is best to book at least 2 days in advance to avoid sellouts.
All participants must have an ID for age verification.
Jet ski's have small compartments to hold small valuables such as wallets, watches and jewelry. However, it is best to leave all these items back home or in the vehicle.
If the weather is unfavorable for this activity, we will attempt to reschedule for another time or day. If we cannot meet customer demands for this, we'll refund the purchase amount.
If there is rain while on the Waverunner, the price will be prorated accordingly.
Tour guides are experienced in finding dolphins so there is a very good chance dolphins will be encountered. However, there are no guarantees.
If more than one piece of equipment is rented within a group, even if reserved separately, the vendor will make a copy of a credit card for the damage waiver instead of collecting a damage deposit. When the equipment comes back without damage, the copy is shredded.
Cancellation policy
Customers may cancel at least 24 hours prior to their arrival date and time to receive a full refund minus a $5 service fee. Customers that cancel after the 24 hour period will not be eligible for a refund. If the weather is unfavorable, the session may be rescheduled for a later time/date or a full refund will be issued. No-shows will not be refunded. Customer may make changes to the reservation without any fees as long as it's outside the 24 hour cancellation period.
Check Availability/Book online
Read what other TripShock! travelers think about the Xtreme H2o Destin Crab Island Jet Ski Dolphin Tour. What they loved, what they liked and what they think could be improved, it's all here to help you make the most of your next trip. Only TripShock! customers may leave reviews. Please login to your reservation to post your review.
"Dolphin waverunner"
Christopher Whetstone USA Aug 25 2019 11:07am

Great experience, kids can't atop talking about it...!!!

Verified TripShock! Traveler Review
Erin Law USA about 1 year ago

Would do it again in a heartbeat!!

We were able to see dolphins within 10 minutes and there were hundreds!! Our guide (Taylor, if I remember correctly) was great. Took pictures for us with the dolphins and was very knowledgeable! If you are able to budget this on your trip, you will never regret it! This was a memory I will cherish forever! They give you an hour of a guided tour and 30 free time and it was worth every second. If we get the chance to take our kids we definitely will.

Verified TripShock! Traveler Review

Courtney Loveless USA about 1 year ago

First, I want to say that the staff were so nice, patient and awesome. They went out of their way to make sure everyone was safe and comfortable on the jet skis, and they absolutely did their job. However, if you want to see dolphins, DO NOT go on this tour. This is more of a "receive a boating license and jet ski around" tour. It's cool to ride around, but I went on this tour specifically to get to see dolphins. I specifically chose this tour over others (and over boat tours-which were much cheaper) after reading the following statements on their website: "The dolphins have come to know us and will come right up to you, surfing under your Waverunner / Jet Ski. Our dolphin tours are the best way to get up close and personal with these amazing creatures..... We will take you to Destin's... read more

Verified TripShock! Traveler Review

Management Response, about 1 year ago

Thanks for posting and sharing your feedback. I'm happy to hear about your experience with the staff, but sorry to hear that the dolphins weren't more playful that day. They are in their wild habitat so unfortunately there is no guarantee of sightings on every trip. There is a 95% chance of dolphin sightings on this tour and the same is true had you booked with another vendor. Fishing trips are similar where there's simply no guarantee of a catch. Some boats come back with a huge catch, whereas others will arrive with very little or even nothing at all. I do hope that we see you again next time and that the dolphins make it up to you! Thanks again for sharing and booking with us! TripShock Guest Service Manager

Jeff Rankin USA about 1 year ago

This was by far the most fun experience we have had at the beach yet. To see so many dolphins up close and personal was beyond cool. All the staff was helpful and very friendly. We are definitely doing it again.

Verified TripShock! Traveler Review

Justin USA about 1 year ago

Had 10 times more fun then expected. What a blast!!!!

Verified TripShock! Traveler Review

Stephanie USA about 2 years ago

With a 16 & 20 year old, we figured the wave runners would be fun and the dolphins an added bonus. It was AWESOME! We have seen dolphins before but this was certainly different! They were all around the wave runners and even during our free time we could drive right along side them. Everyone LOVED the whole experience and would certainly do it again. Only way to get closer is to actually swim with them :)

Verified TripShock! Traveler Review

Valle Caldwell USA about 2 years ago

We had a great time on this excursion. I was a little afraid of taking my 7-year-old in the ocean on a wave runner but once we were out there I realized how much fun she was having and how family friendly the tour was. The water is calm where you start, and as long as you have some knowledge of watercraft and listen to the guides on the operation you are fine. We saw dolphins about 12 feet from us. All the children enjoyed it.

Verified TripShock! Traveler Review

Shannon Retherford USA about 2 years ago

Our family had a great time!!! Having the dolphins so close was amazing

Verified TripShock! Traveler Review

Zabrina USA about 2 years ago

Almost $300 spent and didn't see any dolphins

Rode around back and forth for 45 minutes and didn't see one dolphin! I paid double the normal hourly rate for NOTHING. I'll never waste money on this again even with a discount.

Verified TripShock! Traveler Review

Management Response, about 2 years ago

Hi Zabrina, While there is about a 95% chance of dolphin sightings on each tour, there are those rare occasions where we simply don't see them. These beautiful animals are in the wild habitat, so there really no way to guarantee sightings. The price you paid for this 1.5 hour tour was $115, which is actually just $5 more than what they charge for just a one hour rental at that same location. I hope you still enjoyed your time out on the waverunner and your visit to Destin! I'm glad you were able to save some money by booking through our site and hope we see you again next time! Best regards, TripShock! Guest Service Manager

Mark USA about 2 years ago

Definitely a great company to take a tour with...FUN!

Probably one of the best jetski values in Destin...We saw so many dolphins, a sea turtle, and even a shark during our free time. We had a blast and your equipment was safe, easy to operate, and in good condition.

Verified TripShock! Traveler Review

Carol USA about 2 years ago

I got scared on the water since I had my son behind me but Zack took good care of me and took us to a calm bay where I could feel more comfortable on the jet ski. Once we got there, wait for it...Dolphins everywhere!!! They were so close to us and my son LOVED the experience! This was a class act organization and I would do this again and again each time we come to Destin! You can't go wrong with Extreme H2O!!

Verified TripShock! Traveler Review
Note: It is the responsibility of the activity/tour company to ensure the accuracy of the photos displayed. Destin Boardwalk is not responsible for any inaccuracies in the photos.